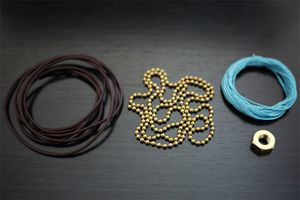 Preparation:
1. 44-45 inches leather cord;
2. 12-15 inches brass/ crystal ball chain;
3. 58-72 inches waxed linen cord
4. 1/4 inch brass hex nut;
5. a pair of scissors.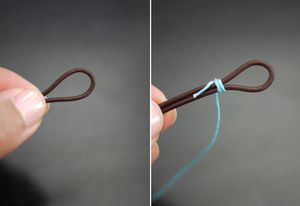 Step 1 : Fold the length of leather cording in half to form a loop. The loop should fit around the hex nut, which serves as the clasp. Run the tip of the waxed linen upwards along the leather cord and towards the loop. Then wrap around the base of the loop at least 5-6 times, working downwards in the opposite direction. This secures the waxed linen cord and is the start of the bracelet.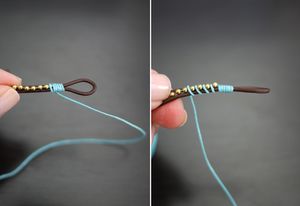 Step 2: Place the ball chain along the leather cording with the end of the chain meeting the end of the wrap. Holding the ball chain against the leather cord, wrap the linen around tightly.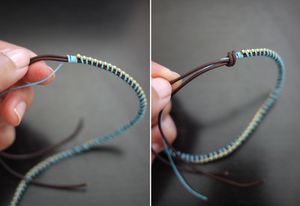 Step 4: When you have reached the end of the ball chain wrap the linen cording around the leather strands 2-3 more times. Tie a knot with all three strands.